6 Gazebos Comparison
The bottom line is, whatever you're doing in your outdoor space, gazebos have you covered–literally! With so many uses and advantages to having a gazebo, they're a wonderful addition to nearly any backyard or garden. Here's the comparison of our six gazebos, just choose the one that fits your patio the best.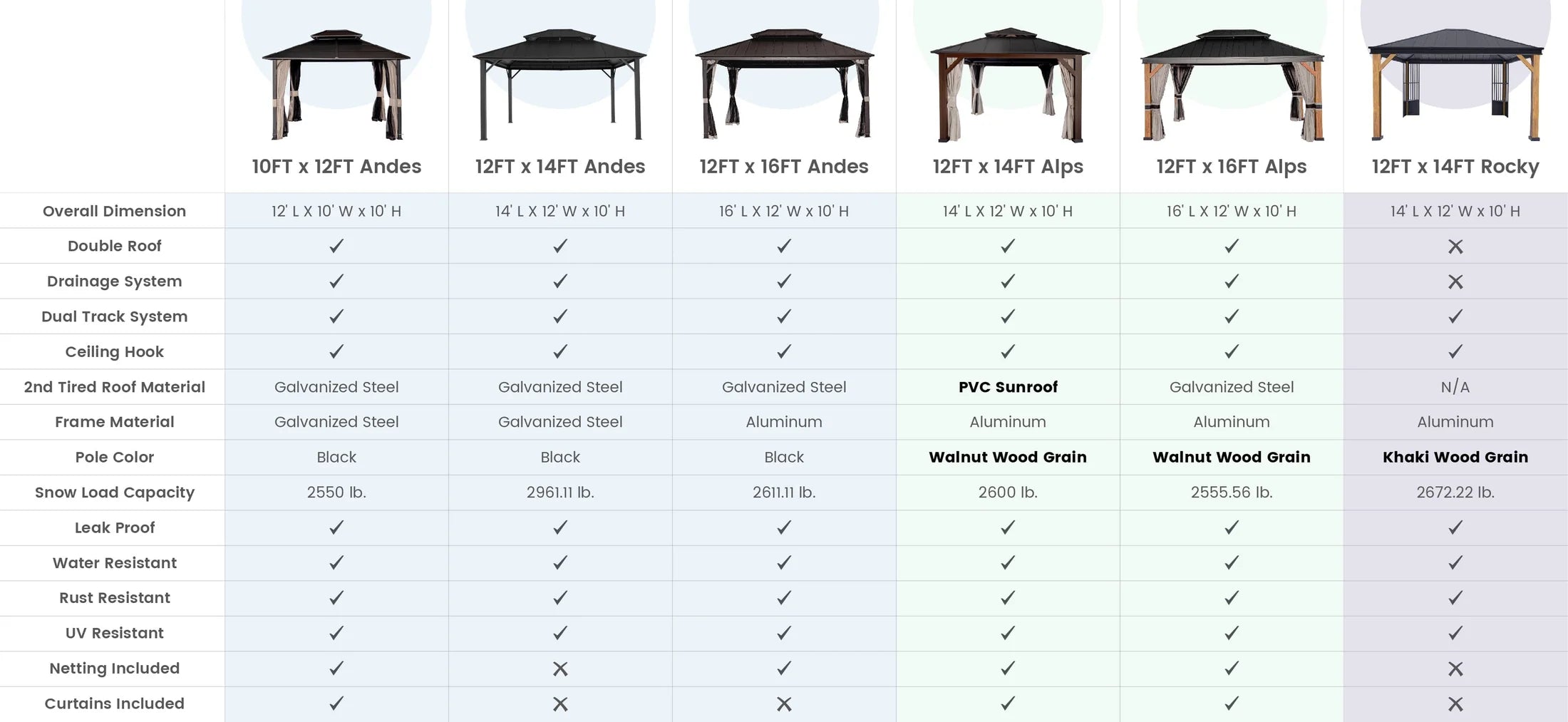 5 Reasons You Should Own a Gazebo
So, why do you need a gazebo for your backyard, garden or patio? The truth is, there are a ton of reasons, and probably too many to list. A gazebo is a great way to get more out of outdoor living. Here are 5 great reasons you should consider a gazebo for your backyard or garden
1.Gazebos Create a Useable Space,Year-Round

The great thing about gazebos is that they combine some of the comforts of indoors with many of the joys of the outdoors. In the summertime, gazebos provide excellent shade and protection from the sun, while allowing cool breezes and fresh air through. In the fall and winter, gazebos offer a space that's sheltered from falling leaves and rain, and a view of the surrounding area. In the spring, they offer a beautiful vantage point from which to enjoy spring-time greenery emerging, and a roof to block falling pollen.
2.Gazebos provide a Wonderful Place to Gather

A gazebo can provide shade on any days and are a great gathering place. Your family and friends will enjoy cookouts and relaxing moments in it.
3.Gazebos provides a Relaxation Zone

It is great to have a gazebo that allows you to enjoy the fresh air and the warmth of the sun, or just to relax yourself outdoor when you feel overwhelmed.
4.Gazebos Provide a Great Outdoor Dining Area

A gazebo is a great place to eat meals outdoor. Even the smallest gazebos can host a café dining table and a couple of chairs to create an intimate outdoor dining room. Larger gazebos are perfect for having a meal with the entire family.
5.Gazebos Can Upgrade Your Garden,Yard,Patio,orPool,and Increases Value for Home

Your outdoor space can be a serious investment! Like patios and lawns, gazebos are rarely found in houses, so they instantly increase the value of your property